Dinton News

4th June 2017 - Second Vintage of Dinton Folly Sparkling Wine
Sunday morning launched the second vintage of Dinton Folly Sparkling Wine at Upton Road Vineyard, Dinton. A large crowd congregated to enjoy the tasting.
Upton Road Vineyard
1st March 2017 - PLANNING APPLICATION NEW ROAD, DINTON
AVDC have refused planning permission for the proposed new homes on New Road, Dinton. 21 December 2016 A new Planning Application No. 16/04408/APP for land west of New Road, Dinton has been received for the erection of two detached dwellings and two semi-detached dwellings with garaging together with associated access, parking, landscaping and all enabling works. Any comments regarding the application should be addressed to AVDC Planning Dept by 10th January 2017.
2nd December 2016 - DINTON CHRISTMAS BAZAAR
The Dinton Christmas Bazaar was held in the village hall on 26th November. The Luxury Christmas Hamper was won by Mr. & Mrs. Wild of Dinton, the second Christmas Hamper was won by Audrey Manners of Stone and the third hamper was won by Mr. & Mrs. Dlugosz of Dinton.
1st December 2016 - Grand Hamper draw at Haddenham Library
Tickets are available now in the library for two fantastic Christmas hampers. They are only £1 each, and the draw will be carried out on 16th December at 4pm in the library. Good luck!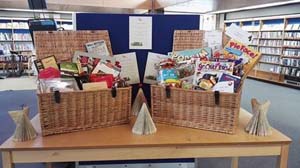 Prizes
10th October 2016 - AVDC REFUSES PLANNING PERMISSION
The AVDC has refused an application for 10 houses to be built by Rectory Homes in Dinton at the junction of New Road and the A418. For the detailed reasons for refusal go to the AVDC Planning website and enter the following Planning No 16/02519/APP
28th August 2016 - Dinton Parish Fete held on 28th August
...... Report from the Fete Chairman
....... Slideshow of fete pictures
26th June 2016 - "Dinton Folly" Wine Launch
Sunday 26th June 2016 was the launch of the wine grown from grapes planted in Dinton. Three different varieties Pinot Noir, Chardonnay and Pinot Meunier. A large crowd congregated on the field next to the grapevines to enjoy the first tasting of this English Sparkling Wine. See the wine website www.dintonwine.com
.....see Photo Slideshow
25th June 2016 - Chloe Competition Prize Winners
See full list of prize winners below
....more info
25th June 2016 - Dinton Hall Ball 2016
The Dinton Marquee Group would like to thank all of those who attended our Ball in the Hall on 25th June 2016. We are pleased to announce that we have raised £3520 for the Florence Nightingale Hospice Charity. A massive thank you to everyone involved, especially Richard Vanbergen, for making it a really special night.
.....see flyer
......see photo slideshow
24th June 2016 - Queen 90th Birthday Celebrations
THE GRAND TEA PARTY to Celebrate THE QUEENS's 90th BIRTHDAY

The Celebrations to mark the Queen's mile stone birthday took place on Sunday 12th June on Westlington Green. This was a free event, generously given by Dinton, Ford and Upton Parish Council. Honor Vane and her team of helpers would very much like to thank all those who generously donated their time on both Saturday and Sunday, transporting tables and chairs from the Village Hall – lent free of charge by the Village Hall committee. A group of helpers from the village worked hard decorating the marquee which again was very generously donated by the marquee committee. Sally Carr provided beautiful red white and blue flowers for all the tables and background music was supplied by Barry Lynch.

Despite the rain on both Saturday and Sunday, the sun came out on cue just after 3.00pm and so did the village. Around 300 people turned up and enjoyed a cup of tea, lovely sandwiches and a delicious array of superb cakes supplied by villagers – a big thank you to all who demonstrated their baking skills. Ann Piggott rounded off the celebrations by cutting a wonderful Birthday Cake which she had made and which was thoroughly enjoyed by all – a huge thank-you to Ann. Honor Vane
.....see Photos Slideshow
25th January 2016 - Sunshine Club programme starts for 2016
The Sunshine Club Matinee Cinema starts its 2016 programme of much loved musicals at The Bernard Hall Cuddington today. Full programme below.
... see complete programme
7th November 2015 - Dinton Fireworks
A good crowd of around 1500 enjoyed the bonfire and fireworks on the parish field on a pleasantly mild evening. Beer Bangers and Burgers were in great demand and tasted better after the wait in line to be served.
... See the fireworks