Dinton News

22nd June 2022 - Dinton Church Concert
Supporting Jesse Malin was Kelley Swindall from Georgia now based in New York
Kelley Swindall
22nd June 2022 - Dinton Concert with Jesse Malin
Jesse Malin filled Dinton Church and the audience enjoyed the music of this American rock musician, guitarist and songwriter. He started his performing career in New York and has collaborated with Bruce Springsteen, Billie Joe Armstrong of Green Day, Ryan Adams and numerous other musicians.
Jesse Malin
5th June 2022 - Queens Platinum Jubilee on Dinton Parish Field
Dinton Parish Field
3rd June 2022 - Echoes of Swing Band at Dinton Church
Dinton Parish Church opened the doors to a special charity concert which forms part of the Queens Jubilee celebrations. The music played to a packed audience covered the popular music from the swing era, with music from the Great American song Book, and other modern arrangers. Echoes Of Swing big band has been in existence for over 12 years, based in Cookham, near Maidenhead playing concerts, and charity events with musical arrangements from the swing era, through the Rock period to the music of other modern arrangers. The band has played many tours of Cyprus over the last 12 years for charities, in major amphitheatres and Summer Balls at British military Bases under the name of the Barrie Rowe Big Band. Over this tenure period the band has attracted many talented semi-pro musicians, the majority of which have stayed with the group. A Big Band is a musical ensemble that consists of 5 saxophones 4 Trumpet 3 Trombones and 3 rhythm section. The driving beat of a big band music is built by a rhythm section composed of piano, bass and drums. Big band music became popular throughout the 40s led by orchestra leaders such as Glenn Miller, Tommy Dorsey, Benny Goodman and Count Basie.
Echoes of Swing Band
3rd June 2022 - Upton Platinum Jubilee Tea Party
A Platinum Jubilee tea party was held in Jolie Phillips' paddock in Upton. It was very well attended and everyone enjoyed themselves. Grateful thanks to Jolie and to Sue Unwin and Jo Troup for organising the party. It was great to be able to enjoy some Dinton Folly, courtesy of the Kimbers, and to toast Her Majesty the Queen. There were lots of cakes including a beautifully decorated commemorative one made by Jo Troup and decorated by Sue Unwin's sister-in-law.
Upton Cake
23rd April 2022 - Concert at Dinton Church
Opening the concert was singer-songwriter Kirby Brown from East Texas
Kirby Brown
23rd April 2022 - Concert at Dinton Church
Mike Trotman organised the concert at Dinton Church, the first in a long time due to Covid restrictions. David Ramirez from Austin, Texas in his Find the Light Tour delighted the audience with his melodic voice and soulful songs.
David Ramirez
19th March 2022 - Ukraine Cake Sale at Seven Stars
Lovely sunny day in the garden at the Seven Stars who hosted a Cake Sale to raise money for the Ukraine Appeal. Cakes were made by Issy and Ella Perrott and Chloe Stewart, Lily, Freya and Ben plus others. The marvellous sum of £463.31 was raised for this worthwhile cause.
15th March 2022 - Haddenham Community Vehicle
On Tuesday, March 15 at the Haddenham Community Library was the re-launch of Carrie, the Haddenham Community Vehicle, which is used by many people including some from Dinton and Stone parishes. The service was started by former GP, Dr. Hugh Stradling. The door-to-door service is bookable in advance by telephoning David Hammond on 07483 806171. The service is free to people in this area but donations are much appreciated. New volunteer drivers are always welcome. Thank you to all those who volunteer to help with Carrie. It is a really useful, much needed service. It doesn't have to be used for medical appointments; it can be used for more social outings too.
Carrie
1st March 2022 - Village Hall Changes
In April Honor Vane takes over as Bookings Secretary for Dinton village hall. Dinton with Ford & Upton Parish Council is now the Sole Trustee of the village hall under the Deed of Grant which is the legal document detailing how the hall should be managed. Honor's contact details are 01296 748177 or honorvane@hotmail.com The council has set up a Management Committee, with Dick O'Driscoll being Chairman and Keith Gray being Secretary. Other members of the committee are Honor Vane, Nick Cottman, Richard Lamkin, Rosemary Jackson, Terry Heath, and Monica Dunton. Di Trigg and Alan Weston kindly agreed to stay on the management committee for a while to help with the transfer of roles and responsibilities. Thank you to them and to all those involved with the running of the hall over many years. Volunteers are needed to help the village hall committee by carrying out maintenance, including paintings gardening, tidying up, etc. if you can help in any way, please telephone Dick O'Driscoll on 01296 748283 or email him at odriscoll110@btinternet.com or telephone Keith Gray on 07789 586594 or email him at keith.gray6@btopenworld.com
11th February 2022 - Seven Stars CAMRA award
The local community came to the Seven Stars to support Stephanie to receive a "Lockdown Hero" CAMRA Award. Stephanie thanked everyone for their kind messages and gifts. A special thanks to Nick Cottman for nominating Stephanie and a huge thank you to CAMRA for selecting her and making this a reality. Also thanks to all the staff who make The Seven Stars the warm and welcoming place it is, we literally could not be doing this without you.
Stephanie
21st December 2021 - Christmas 2021
Christmas Lights
12th December 2021 - Turkey Hamper Draw 2021
After the Carol Service everyone enjoyed mince pies. The hamper raffle was drawn by Reverend Cassa Messervy. The proceeds of the raffle will be shared by Florence Nightingale House and the Church. The first prize was won by Sandra Almond, second prize won by Naomi Corbould and third prize was won by Joy Featherston.
27th November 2021 - Cheese and Wine Dinton Village Hall
The Cheese and Wine Evening took place at the Village Hall and tickets sales sold out. The evening was enjoyable and the windows were kept open. It was a not-for-profit event and covered all costs and raised enough money to buy some Christmas Lights for the tree outside the Seven Stars.
5th November 2021 - Macmillan Coffee Morning
The Macmillan Coffee Morning hosted by Angela Rainbow raised over £500 for Macmiillan Cancer Support. Angela thanked all those who supported the event and gave donations.
21st August 2021 - Seven Stars Dinton Beer Festival
The Beer Festival at the Seven Stars pub was able to go ahead this year and was very successful raising around £3000. The event was well attended and at the end of the day all the beer had been sold. Good effort from all the volunteers whose hard work made a success of the day. Live music entertained the crowds who sampled a fine selection of real ales, together with Pimms and Cider Tent. Dinton Wines also had a stall introducing their new Dinton Folly Pink a sparkling rose wine. A date for next year has been set for 20 August 2022.
Barrels of Beer
12th December 2020 - Winners of the 2020 Christmas Turkey Hamper Draw
The draw for the 2020 Luxury Turkey Hamper took place on Saturday, 12th December, with tickets taken from the tombola drum by Revd Nigel Featherstone. The winners are:- First prize Carl Thompson Second prize Audrey Manners Third Prize Cecily Luther. The proceeds of just over £1,200 will be donated to the Aylesbury Vineyard Foodstore. Thank you to the very generous donors of the luxury goods which made up the prizes and to thank every single one of the very generous villagers who purchased the tickets. Well Done Everyone.
First Prize Hamper
8th May 2020 - VE Day 75th Anniversary
Celebrating the 75th anniversary at the end of the second world war people lined the streets for the 11am 2 minute silence with clapping after. At 6pm again lining the streets people sang We will Meet Again some Sunny Day sung originally by Vera Lynn and toasted with a drink.
Land Army Girl
17th March 2020 - URGENT Information from Haddenham Medical Centre
.....See Letter
8th March 2020 - 5th Annual Charity Quiz
The amount raised from the 5th annual Charity Quiz at the Seven Stars for Florence Nightingale Hospice Charity is £1860.58. This amount brings the total amount raised over the 5 years to £8441.80.
29th February 2020 - Pivot Games 2020
What on earth are PIVOT GAMES? They are The Parish Inter Village Olympic Tournament and they were a great success! The village hall was packed with kids and adults from all corners of the Parish to compete in the Games. The final winners were Dinton and they won a fine competition trophy of a block of wood ???????. Thanks to Diana and Steve Merry for all their work in organising this event. Take a look at the pictures of all the events.
Serious competition
SEE PICTURE GALLERY OF ALL THE FUN
SEE MOVIE OF THE GAMES
8th February 2020 - Sam Baker at Dinton Church
Over 100 people attended St. Peter and St. Paul Church in Dinton to hear performing Sam Baker from Austin Texas. This tour celebrates the 15th anniversary of his first album Mercy.
Sam Baker
7th December 2019 - Lunch & Turkey Hamper Draw Event
The Luxury Hamper Draw was held in Dinton village hall. The first prize was won by Cathryn and Robin Nash, second prize by George Lamb and third prize by Christine Gadsdon. Soup and sausage lunch with mulled wine and mince pies, together with a bring and buy raised £996 for Church Funds.
5th December 2019 - Macmillan Coffee Morning
Marie-Helene Usherwood held a Macmillan Coffee Morning at her house and raised £664 for Macmillan Cancer Support.
1st December 2019 - Poppy Appeal
David Pickup reported that a total of £3272.00 was raised in the Parish.
16th November 2019 - Cheese & Wine evening
The Cheese and Wine event held in Dinton Village Hall was a great success with over 70 people attend. A great selection of wines available and delicious cheeses to taste.
Decorated hall
31st October 2019 - Halloween Trick or Treat in Dinton
Halloween
19th October 2019 - Conker Championship
The annual Conker Championship took place at Dinton Cricket Club. Children aged six were playing against people in their seventies. The competition was won by Chloe Fraser. Congratulations to her and all those who took part. Thanks to Andy McCrea and his team who organised the event.
19th October 2019 - Quiz night in Dinton Village Hall
The quiz night held in Dinton Village Hall raised £248 for the village hall funds. Janet Morgan and her team won and Sylvia Eaton and her team won the consolation prize.
5th October 2019 - Art in Nature Concert
The Art in Nature Concert held at the Church of St. Peter & St. Paul Dinton on Saturday 5th October raised £2592.60 for the Organ Fund. Thanks to the performers who gave their services free of charge.
17th August 2019 - Dinton Beer Festival 2019
The fifth annual Dinton Beer Festival was held at the Seven Stars Pub with fine sunny weather. 10 barrels of beer on offer as far apart as Devon and Staffordshire plus local beers. In addition there was a Pimms tent plus cider to sample. 4 music acts together with Towersey Morris Men entertained a large crowd.
1st June 2019 - Paul McClure at Dinton Church
Paul McClure came on first to entertain the audience in Dinton Church
Paul McClure
1st June 2019 - Birds of Chicago at Dinton Church
Over 100 people attended Dinton Church to hear the music organised by Mike Trotman. The Birds of Chicago sang beautifully and many thanks to Mike for the superb concert.
Birds of Chicago
9th February 2019 - Community Led Plan 9 & 26 February
Over 100 residents attended two events during February to launch a Community-led Plan for our villages –Dinton, Ford, Gibraltar, Upton and Westlington. Although there were some guideline subjects, e.g. Roads, Transport, Safety, Security, Village events, Environment, Conservation, Amenities, people were encouraged to contribute their thoughts about improving any aspect of village life. The team has collated all ideas and suggestions and write a draft document during the summer identifying priority actions that our community wants. If you would like to be involved please contact a member of the team or send an email to dintonplan@gmail.com Amanda Bassett, Nick Cottman, Anne Dunne, Mel Kidner, Dick O'Driscoll and John Owen. Additional support is provided by Helen Archer of Community Impact Bucks, a charity supporting local community groups and is endorsed by the Parish Council.
1st December 2018 - Dinton Church Bazaar
The Bazaar was held at Dinton Village Hall. The event raised £1264. Luxury hamper won by Dr. C. Cochrane-Dyet, Second prize won by Mrs. Merry who lives in North Bucks and third prize won by Mr. & Mrs. Nash of Dinton.
24th November 2018 - Dinton Church Concert
Mike Trotman of Empty Rooms Productions staged a gig at Dinton St. Peter & St. Pauls Church. The Don Gallardo Band played to an appreciative audience.
Don Gallardo Band
11th November 2018 - Remembrance Sunday
Remembrance Sunday at the 11th hour on the 11th day of the 11th month at Dinton Church with a special commemoration to the people who died in World War 1. Wreaths were laid accompanied by a bugler and a oak tree was planted in dedication to those who fought in the Great War.
World War 1 Dedication Placque
11th November 2018 - Centenary of WW1 Exhibition at Stone Village Hall
Carole Fryer and her team presented a wonderful exhibition for the Centenary of World War 1. Memorabilia of medals and postcards, together with letters received and sent to soldiers overseas fighting in the battles of World War 1. People from around the area had produced articles of their family memories which made interesting reading. Lunches and an array of cakes were served by willing helpers.
WW1 Exhibition
13th October 2018 - Conker Smashing at Dinton Cricket Club
,,,,, Read about the competition
13th October 2018 - Chiltern Concert Band at Dinton Church
The Chiltern Concert Band performed at Dinton Church. Conducted by Duncan Stubbs they played well known tunes. Matthew Little sang songs and read a poem. The music included an anniversary tribute to the end of WW1 and finished with a rousing performance of Dambusters March.
9th September 2018 - Dinton Vineyard Open Day
Sunny day for for the open day at the Vineyard in Dinton. A good crowd of people came to sample Dinton Folly a sparkling wine made from Pinot Noir, Chardonnay and Pinot Meunier.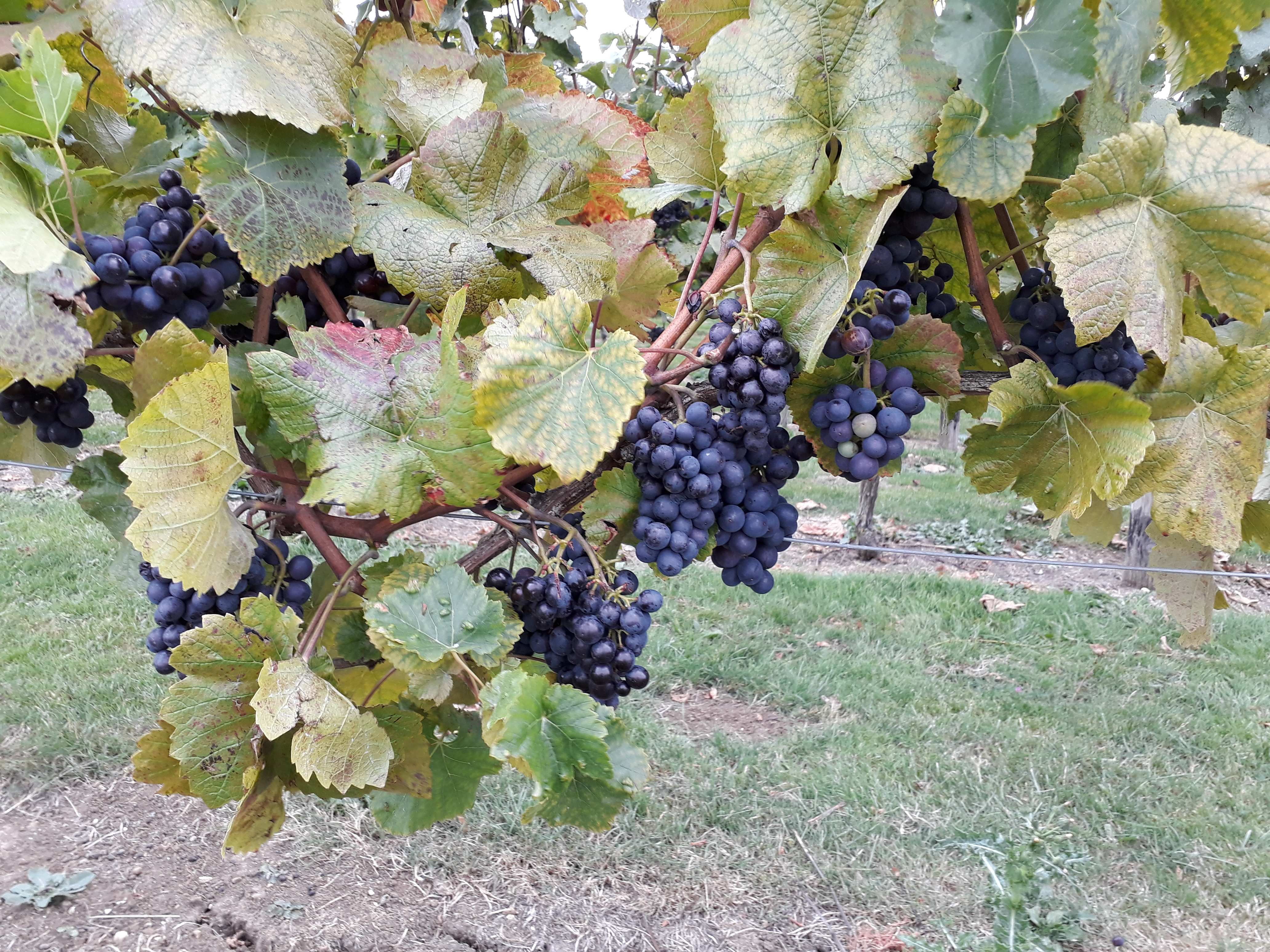 2018 Grapes
26th August 2018 - Dinton Parish Fete 2018
Unfortunately, this year it rained heavily on the day of the Fete after all the hard work which had gone into the preparation for the day.
Rainy Fete this year
24th August 2018 - Picnic Ball 2018
Picnic Ball held in the village marquee an annual event with the band Bustin Loose who rocked the evening away.
Village Marquee
18th August 2018 - Dinton Beer Festival 2018
Held in the grounds of the Seven Stars pub. With a good crowd gathered to sample the different kinds of beer on offer, together with Pimms and other drinks. There was food on offer with live music and the Morris Men for entertainment.
Outside the Seven Stars
23rd June 2018 - Nigel Featherstone Ordained
Nigel Featherstone was ordained at Great Missenden Church on Saturday 23rd June. He is the first vicar for 100 years to live in Dinton Parish.
Nigel Featherstone
22nd June 2018 - Tony Hadley Concert
Tony Hadley in concert performed on the School Field on Friday, 22nd June. There was a large crowd who danced the night away on a lovely summer evening.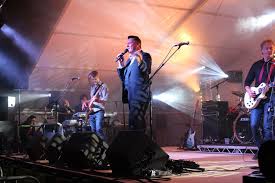 Tony Hadley
13th May 2018 - Seven Stars Annual Quiz Night
Around 60 people in 10 teams competed in the Annual Charity Quiz Night in aid of the Florence Nightingale Hospice. £2,000 was raised. Congratulations to the Upton Mafia Team who now hold the "Florence Nightingale Shield"
11th May 2018 - Dinton Church Coffee Morning
Dinton Church Coffee Morning for Christian Aid with Raffle, Bring and Buy with a little light music. Despite a low attendance £200 was raised for Christian Aid. Valma Thompson thanked all those who had come along and gave so generously. Also thanks to all the people who volunteered to help on the day. Valma also was grateful to Chris Ashbridge who played the Dinton Organ finishing off with the very stirring Dam Busters March.
12th April 2018 - Road Closure at Bridgeway Cuddington fron 1st May
.... See details of closure
10th March 2018 - Dinton Church Coffee Morning and Bring & Buy
The flower arrangers at Dinton Church were delighted to announce that £345 was raised at the Coffee Morning which will enable them to repair the pedestal stands. Thanks to all who attended spending money and also for donations received.
24th December 2017 - Dinton Carol Singing Christmas Eve
The Dinton Christmas Eve carol singing raised £209.41 for the Florence Nigtingale Hospice charity. Well done to all the merry singers. Thank you to everyone who supported us on the night. Debbie Hawes
2nd December 2017 - Dinton Church Bazaar
Thank you so much for your generous donations and generous gift of your hard work and time which went into making our event on Saturday Dec 2nd such a successful and happy event. We made over £1000. Thanks for all your support.
31st October 2017 - Halloween in Dinton
Halloween in Dinton with around 22 children dressed in costumes visited houses in the village.
Halloween House
31st October 2017 - Halloween in Dinton
Trick or Treat
21st October 2017 - Rosellys at Dinton Church
The Rosellys are an Americana band from Bristol signed to Clubhouse Records. Regular tours to America clearly influence their song writing and live performances with close comparisons made to artists such as Alison Krauss, Emmylou Harris, Gillian Welch and Dave Rawlings to name a few. They will be playing songs from The Granary Sessions, the bands 4th full length album and their first release on Clubhouse Records. Mike Trotman of Empty Rooms organised this 300th gig which was attended by a good crowd.
Rosellys
21st October 2017 - Support by Hannah Rose Platt
Hannah Rose Platt who entertained everyone before the Rosellys came on to play.
Hannah Rose Platt
3rd October 2017 - Latest Dinton Donkey
The latest donkey to be born in Dinton on the 3rd October 2017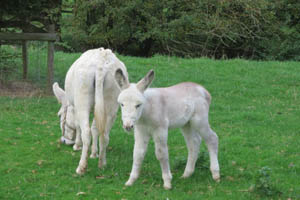 Munchkins
19th August 2017 - Third Dinton Beer Festival
The third Dinton Beer Festival was held in the gardens of the Seven Stars Pub. There was a dozen real ales plus Cider and Pimms. The Owlswick Morris Dancers entertained and also live American old time music.
Seven Stars Garden
23rd July 2017 - Woodpeckers Garden Party, Westlington
Lovely sunny day in Westlington where a Garden Party was held at Woodpeckers. Musical Entertainment with Paul Herrington and the Wootton Warblers held inside the marquee. Tea was served with cake. There was a raffle and plant stall. Lots of games for the children. Money raised was around £732 for the Dinton Church Organ Fund.
Wootton Warblers
24th June 2017 - Musical Evening at St. Peter and St. Pauls Church,
Aylesbury Choral Society performed an evening of Light Music in St. peter and St. Pauls Church, Dinton. The Conductor was Jeff Stewart and his accompanist Colin Spinks. A total of £917 was raised for the Dinton Church Organ Restoration Fund.
24th June 2017 - Dinton Open Garden and Teas in the VillageHall
Five gardens in Dinton were open to the public as part of the National Gardens Scheme and its charities. Around 400 people enjoyed the day walking around the village, seeing the beautiful gardens, visiting the church and having delicious tea and cakes in the village hall. A total of £2150 was raised for the NGS Scheme and £1100 was raised for the Church Funds.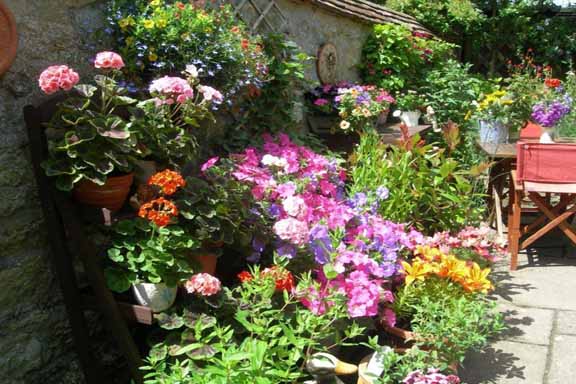 Flower Cottage
...... See Slideshow of Photos
23rd June 2017 - Tony Hadley Concert School Field, Dinton
The Tony Hadley Concert held on the School Field at the Junior School Site of the Cuddington & Dinton C of E School on Friday, 23rd June, raised £11,000.
Tony Hadley on stage
4th June 2017 - Second Vintage of Dinton Folly Sparkling Wine
Sunday morning launched the second vintage of Dinton Folly Sparkling Wine at Upton Road Vineyard, Dinton. A large crowd congregated to enjoy the tasting.
Upton Road Vineyard
1st March 2017 - PLANNING APPLICATION NEW ROAD, DINTON
AVDC have refused planning permission for the proposed new homes on New Road, Dinton. 21 December 2016 A new Planning Application No. 16/04408/APP for land west of New Road, Dinton has been received for the erection of two detached dwellings and two semi-detached dwellings with garaging together with associated access, parking, landscaping and all enabling works. Any comments regarding the application should be addressed to AVDC Planning Dept by 10th January 2017.
2nd December 2016 - DINTON CHRISTMAS BAZAAR
The Dinton Christmas Bazaar was held in the village hall on 26th November. The Luxury Christmas Hamper was won by Mr. & Mrs. Wild of Dinton, the second Christmas Hamper was won by Audrey Manners of Stone and the third hamper was won by Mr. & Mrs. Dlugosz of Dinton.
1st December 2016 - Grand Hamper draw at Haddenham Library
Tickets are available now in the library for two fantastic Christmas hampers. They are only £1 each, and the draw will be carried out on 16th December at 4pm in the library. Good luck!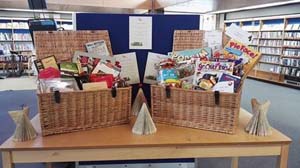 Prizes
10th October 2016 - AVDC REFUSES PLANNING PERMISSION
The AVDC has refused an application for 10 houses to be built by Rectory Homes in Dinton at the junction of New Road and the A418. For the detailed reasons for refusal go to the AVDC Planning website and enter the following Planning No 16/02519/APP
28th August 2016 - Dinton Parish Fete held on 28th August
...... Report from the Fete Chairman
....... Slideshow of fete pictures
26th June 2016 - "Dinton Folly" Wine Launch
Sunday 26th June 2016 was the launch of the wine grown from grapes planted in Dinton. Three different varieties Pinot Noir, Chardonnay and Pinot Meunier. A large crowd congregated on the field next to the grapevines to enjoy the first tasting of this English Sparkling Wine. See the wine website www.dintonwine.com
.....see Photo Slideshow
25th June 2016 - Chloe Competition Prize Winners
See full list of prize winners below
....more info
25th June 2016 - Dinton Hall Ball 2016
The Dinton Marquee Group would like to thank all of those who attended our Ball in the Hall on 25th June 2016. We are pleased to announce that we have raised £3520 for the Florence Nightingale Hospice Charity. A massive thank you to everyone involved, especially Richard Vanbergen, for making it a really special night.
.....see flyer
......see photo slideshow
24th June 2016 - Queen 90th Birthday Celebrations
THE GRAND TEA PARTY to Celebrate THE QUEENS's 90th BIRTHDAY

The Celebrations to mark the Queen's mile stone birthday took place on Sunday 12th June on Westlington Green. This was a free event, generously given by Dinton, Ford and Upton Parish Council. Honor Vane and her team of helpers would very much like to thank all those who generously donated their time on both Saturday and Sunday, transporting tables and chairs from the Village Hall – lent free of charge by the Village Hall committee. A group of helpers from the village worked hard decorating the marquee which again was very generously donated by the marquee committee. Sally Carr provided beautiful red white and blue flowers for all the tables and background music was supplied by Barry Lynch.

Despite the rain on both Saturday and Sunday, the sun came out on cue just after 3.00pm and so did the village. Around 300 people turned up and enjoyed a cup of tea, lovely sandwiches and a delicious array of superb cakes supplied by villagers – a big thank you to all who demonstrated their baking skills. Ann Piggott rounded off the celebrations by cutting a wonderful Birthday Cake which she had made and which was thoroughly enjoyed by all – a huge thank-you to Ann. Honor Vane
.....see Photos Slideshow
25th January 2016 - Sunshine Club programme starts for 2016
The Sunshine Club Matinee Cinema starts its 2016 programme of much loved musicals at The Bernard Hall Cuddington today. Full programme below.
... see complete programme
7th November 2015 - Dinton Fireworks
A good crowd of around 1500 enjoyed the bonfire and fireworks on the parish field on a pleasantly mild evening. Beer Bangers and Burgers were in great demand and tasted better after the wait in line to be served.
... See the fireworks
1st November 2015 - Wind Turbine at Lower Waldridge Farm Refused
The Planning Appeal against refusal by the AVDC to grant planning permission for a large wind turbine at Lower Waldridge Farm has been refused by the Secretary of State on the grounds of its impact on the local landscape. Local residents fought an energetic campaign against this wind turbine and have been vindicated in their view that the development would spoil the landscape of the Aylesbury Vale. You can see more information on the AVDC website under appeal ref. 13/00043
27th October 2015 - Community Choir Sings in Dinton
Sing is a community choir that tweets in the Junior School every Monday from 7.45 - 9.30 It meets in school term times, and re-convenes on 2nd of Nov to start singing carols on the run-up to Christmas. The aim is to have fun, and learn to sing some songs in harmony. All welcome, no auditions, no sight reading, no solos! It meets at The Junior School in Dinton, HP17 8UZ on Tuesdays, from 7.45pm - 9.30pm. Everybody welcome whatever your own perceived ability.
30th August 2015 - Dinton Parish Fete
Once again the Bank Holiday Weather dampened the enjoyment of the Dinton Parish Fete. Despite the wet and cold day a good number of visitors braved the conditions to see all the regular attractions of the Fete. Unfortunately the Dakota fly past was cancelled due to the poor visibility. Please note that the fete will be held next year on BANK HOLIDAY SUNDAY 28th August. Perhaps that will break the run of bad weather.
......See picture slideshow of Fete
13th June 2015 - Chiltern Concert Band at Dinton Church
The Chiltern Concert Band gave a very entertaining performance at Dinton church in Aid of the Flush Fund. A variety of music and solo instrumentalists were led and conducted by Claire Lawrence. The Chiltern Concert Band is a community band comprising part-time adult musicians. It performs several charity concerts each year.
Rob Wallace on trumpet with Claire Lawrence
6th June 2015 - Opening of Kitchen and Toilet facilities at Dinton
The final goal of the Flush Fundraising project was achieved when the new facilities at Dinton church opened on Saturday night. The new additions have been built within the base of the tower and consist of a kitchen area, disabled toilet and baby changing room and a first floor meeting room. Many of the campaigners and contributors to the Flush Fund enjoyed a glass of wine and snacks as Rev. Peter Rich cut the tape declared the room open.
Rev. Peter Rich cuts the tape.
...... see more pictures
11th April 2015 - Barn Dance in the New Marquee
A Barn Dance was held in the new village marquee on the Parish field and was a great success. The "Broadband" folk dance band supplied the music and there was an excellent pig roast. Special thanks to John King and the Marquee group for their work in acquiring the super new marquee and to Jo, Viv, Zim and all the helpers for organising the event.
The Fab New Marquee
.....Photos of Barn Dance
30th March 2015 - PPG buys equipment for Medical Centre
The Haddenham Medical Centre PPG has purchased a Dopplex machine for assisting speedy diagnosis of peripheral vascular disease in patients. The PPG is raising funds through its 200 Club Prize draw to purchase equipment for the Centre that is not available through NHS funding.
Cheque for £2903 presented to Drs. Howcutt & Munir
15th February 2015 - Dinton School Excellent Results
Cuddington and Dinton C of E School achieved the fifth highest results of all 214 primary schools in Buckinghamshire based on pupil progress. 100 per cent of Year 6 pupils, based at the Junior Site in Dinton made expected or better than expected progress in Reading, Writing and Maths. Mrs. Price and the team were delighted to receive a letter of congratulations from The Rt Hon John Bercow to celebrate the excellent performance.
Read John Bercow Letter .........
24th December 2014 - Dinton Carol Singing
Carol Singing around the village went very well with a total of £210 being raised for the Florence Nightingale Hospice.
30th November 2014 - Florence Nightingale 25th Anniversary
A complete sell out of tickets enabled the wonderful total of over £2000 to be donated to the Florence Nightingale Hospice to celebrate its 25 year anniversary. Thanks go to Sally Clark, who so kindly gave her time to demonstrate how to make Christmas floral Decorations and to Barbara Lucas, a founder member of the hospice, who gave a talk on the origins of the Hospice and its work today. Thanks also to the parish team of Larraine Gooch; Angela Rainbow, Patricia Withers, Chantal Heath, Claire Taylor, Andrea Smith, Jenny Bunsell, Venetia Cosier, Honor Vane and Gwen Lee who worked so hard for the event and also to all of those people who donated cakes for the wonderful tea, served on antique cake stands, kindly provided by Sally Morris. The Hospice needs £600.000 a year to carry on its work which includes supporting: Florries Children's Team Lymphoedema Clinic Day Hospice Nightingale 24/7 Team; Part-funding of a Specialist Community Palliative Care Nursing Team Volunteers In-Patient Bank Nurses Discharge Liaison Nurse Well done to all who supported the Anniversary Celebration and continue to support this fantastic Charity.
15th November 2014 - DINTON CHURCH CONCERT WITH SAM BAKER
The Sam Baker concert organised by Dinton impresario Mike Trotman at Dinton Church was a great success. 160 people packed the church and gave Sam and fellow artists, Carrie Elkin & Chip Dolan, a standing ovation at the end of the concert. Between numbers Sam gave a moving account of the suffering he experienced after being blown up on a train heading for Machu Picchu by the Shining Path guerrilla group. The concert raised over 500 pounds for the Dinton Flush Fund. Thanks to Mike for a great concert.
25th August 2014 - Dinton Fete washed out
The annual Dinton Parish Fete washed out by continuous rain all day on Bank Holiday Monday. The Fly Past was cancelled as were much loved events such as the inter village wheel barrow race. Despite the rain over 350 visitors braved the weather and it is hoped that they and the raffle entrants may have contributed enough for the event to break even.
Inrepid Man & Dog brave the rain!
17th August 2014 - Wind Turbine Ford Appeal Postponed
It was originally intended by the Planning Inspectorate to hear the appeal on 23rd September. The appellant has asked for postponement for three months, which has been agreed by the Planning Inspectorate. The new date for the hearing has yet to be arranged. We will keep you informed of any further development. Contact: Martin Usherwood, 01296 748129
10th August 2014 - BEST KEPT VILLAGE AWARD
The winner in our small village category was Fulmer and the runner-up was Weedon. Unfortunately, Dinton did not win this year though was highly commended.
22nd June 2014 - Dinton Open Gardens 22 June 2014
Dinton on a lovely sunny day received 706 visitors and we were able to send a cheque to the National Gardens Scheme of £4403 for their designated charities. This included £268 from the Plants Stall run by Marie Helen Usherwood and generous donations of £49.
The Church was also open all afternoon with parking on the Parish Field allowed free by the Parish Council. The teas in the village hall took £1680 and another £20 from various sources at the Church made a total of £1700 for the Church Flush Fund. Valma Thompson, the organiser, and co-organiser, Patricia Withers, expressed their deep appreciation to everyone in the village who made the 70 cakes and refreshments. Thanks to all the helpers who worked tirelessly through the warm and very busy afternoon. See Local Fund Raising for full report.
Lavender Cottage
......more photos
12th June 2014 - Sheep Shearing in Dinton
Sheep Shearing took place in Dinton on 12 June 2014
Sheep Shearing
9th June 2014 - Alpacas in Dinton
A group of 5 Alpacas have arrived in Dinton.
Alpacas
10th May 2014 - Dinton Flush Fund Bike Ride
The Bike Ride took place on Saturday May 10th 2014 on a lovely sunny day. The adult cyclist completed a 10 mile circuit starting at the Dinton Village Hall via Ford, Marsh, Bishopstone and Stone while the children's route was from the village hall to Westlington, up to the church and back to the hall a circuit of 2 miles. Fifteen cyclists completed the adult circuit and five the children's one.
The undoubted star of the adults was Henry from Henley who completed the circuit on his original Victorian Penny Farthing but all the other entrants did very well completing the circuit in good time. The Marshalls were all in the right place and highly visible and the refreshments afterwards were delicious.
The amazing sum of £1800 was raised - the Flush Fund Project will enter a new phase in 2015 when we will start the building works on the toilets and kitchen. See Local Fund Raising section for full report on Flush Fund.
Dinton Bike Ride
1st March 2014 - In memory of Chris Robinson
The Marquee Club planted a tree in memory of Chris Robinson and around 50 villagers looked on. It was a Giant sequoia which could grow to over 35 feet.
Planting the Tree
.....more info
9th November 2013 - Fireworks and Bonfire in Dinton
A record crowd came to see the firework display in Dinton on a chilly but dry evening. Hot dogs and mulled wine were enjoyed and even the odd pint or two. Thanks to Blaise and Simon and all who helped to make this a cracking occasion.
The Bonfire
15th October 2013 - Seven Stars wins Vale Pub of the Year Competition
The Sevens Stars was presented with the AVDC Pub of the year award sponsored by Dayla Ltd. The Stars was awarded Overall winner for 2013/14 and the Best Food Pub Category 2013/14.
17th September 2013 - Doug Watkinson Latest Book published Sept 2013
Doug Watkinson has published his latest book Scattered Remains. This is the third book in the series of his Nathan Hawk Mystery books.
Doug Watkinson's Books
26th August 2013 - Dinton Parish Fete - What a day!
The Dinton Parish Fete was held on a perfect sunny hot day on Bank holiday Monday. The biggest crowd in recent years saw Tony Hadley, our own local celeb, open the fete. They then made a serious effort to spend their money on all the stalls. The tea marquee, where a fabulous selection of scrumptious cakes were on show, was packed all afternoon.
The flypast of the Hawker Hurricane was stunning, with the plane making several fast low passes over the parish field.
The Wheel barrow race between teams from Dinton and Ford was won by Dinton. The Tug of War between Dinton and Ford was won by Dinton. Come on Ford get into training for next year and make a serious effort to lift these trophies!

Hurricane over Fete

See Slideshow Pictures of Fete 2013
15th July 2013 - Bee Orchid Found
Blaise Brogan and his family Kai, Calli and Amy have found several groups of Bee Orchids growing on the Parish Field. Careful not to tread on them at the Fete !
Bee Orchid photo by Blaise
13th July 2013 - Tingestock Festival 2013
An small intrepid band of Dinton music fans found themselves in deepest Bucks at Tingewick village hall to see Dinton gig promoter Mike Trotmans annual mini festival of Americana music. Headliners were the Leeroy Stagger band from Canada who played a hard rocking set and also on the bill was Redlands Palomino Company, Case Hardin, Troubadour Rose and Paul McClure. 5 hours of great music on a steamy hot evening with many pints of cold beer from the Royal Oak opposite. Reminder - Get your tickets for Mikes gig at Dinton Church on 26th Oct. - see events above.
Leeroy Stagger Band
6th April 2013 - Unveiling of plaque for tree planting
A plaque was unveiled today to commemorate the planting of 22 lime trees in Chesnut Avenue to replace the old chesnut trees that had to be removed. Martin Usherwood thanked Jon Owen, Jon Horn and in particular our tree warden David Hobden who had put in the work to bring this project to fruition. The plaque named the 22 parishioners that had contributed to the purchase of the trees and David Hobden was given a fine framed picture of "A tree warden in repose".
Abracadabra!
...... Slideshow of event photos
17th January 2013 - Planning application for Wind Turbine near Ford
A large number of placard carrying protesters attended the Planning control meeting at the AVDC offices. The application by Jeremy Elgin to erect a Wind turbine in excess of 100 metres high close to Waldridge Manor was thrown out unanimously by the Planning Development Control Committee on the grounds that its visual impact would destroy the surrounding areas of outstanding natural beauty and conservation areas in the Vale.
Protesters outside the AVDC offices
4th January 2013 - The Balloon goes up and up and up!
A protest against building a 101 metre wind turbine was held at Waldridge Manor close to where a proposed wind turbine could be built if planners approve it on the 17th Jan. A large helium balloon which was to have been flown at 101 metres to show the actual height and impact of the proposed turbine, broke loose and could not be recovered.
Wind Turbine protesters at Waldridge Manor
16th November 2012 - One Year of the NEW Seven Stars
The shareholders and directors of the Seven Stars joined Stephanie Guiraute to celebrate the anniversary of purchase of the Stars by the village and the first year of her tenancy. Steph delivered some tasty snacks and everybody commented &quothow great it was to have our pub back&quot after 10 years of poor managements under the previous owners.
Steph delivering the goods!
16th September 2012 - Dinton Scarecrow Festival 2012
The Dinton Scarecrow Festival was themed this year as Witches and Warlocks. See the slideshow of the wonderful entries. Tea and delicious cakes were served in the village hall!
....Click for slideshow
25th August 2012 - Picnic In the Park 2012
The Picnic In the Park took place on the Parish Field on Saturday, 25th August 2012. The band Bustin Loose played all the favourite tunes.
see more.....
29th April 2012 - Snug Bar Renamed
A large crowd turned up at the Seven Stars to see the Snug Bar renamed THE ROBINSON SNUG in memory of Chris Robinson who sadly passed on last year. His son Kieran dedicated the bar in the family name and spoke of his fathers affection for the small snug bar.
New Name Plate
17th April 2012 - Lord Wilson of Dinton Visits Seven Stars
Lord Wilson of Dinton a.k.a. Richard Wilson visited the Seven Stars after the Annual Parish Council meeting at the Village Hall at which he was the guest Speaker. He treated a full hall to his stories of life inside 10 Downing Street with many humurous anecdotes of past Ministers including Margaret Thatcher who not surprisingly terrorised her cabinet ministers!
Richard Wilson with Larraine Gooch
29th January 2012 - Burns Night Celebrated at the Seven Stars
The restaurant at the Seven Stars was full for a Burns Night Celebration and a piper escorted the Haggis, from the kitchen, carried by Steph . The Ode to a Haggis was read and everybody tucked in to a 3 course feast with a definite Scottish flavour. The celebrations ended with Auld Lang Syne naturally!
Piping in the Haggis - Click the video below
27th January 2012 - BBC Oxford visits the Seven Stars
Emma Cambell of BBC Oxford visited the Seven Stars today to film a report on the aquisition of pubs by communities. It was shown on the Oxford evening News
.... See Photo Slideshow of BBC at The 7 Stars
15th January 2012 - The Quiz Evenings at The Seven Stars
The Quiz evenings at the Seven Stars just keep on getting bigger! 70 competitors in 10 teams packed the Stars to contest this seriously challenging quiz and eat some of Stephs Cottage Pie. It was rumoured that some may have even had a pint. Would the Upton Mafia keep up their winning run? See the full report on the Seven Stars Quiz Page.
24th December 2011 - Dinton Carol Singing
Carol Singing in Dinton We would like to thank all the 50 or so people who joined the Carol singing group on Christmas Eve. It started at the Seven Stars and ended enjoying the hospitality of Carol and Barry Lynch. In between it raised a very worthwhile £150 for the Florence Nightingale Hospice. Well done and thank you to all. Trevor and Sara Hopwood
11th December 2011 - Seven Stars Garden
On the11th December a group of pub neighbours turned out to work on the New Road frontage. Thankfully the week before the deep roots and most of the rubble had been cleared out of the border with heavy machinery. The volunteers dug out the weed roots and turned in some horse manure before planting 55 hedging plants of Lonicera Baggesons Gold and then planting 3 sorbus Commixta trees (mountain ash). The new hedge will take 2 years to grow into the attractive hedge, eventually reaching a height of 13ft with a spread of 7ft and be bedecked with orange berries in autumn. They will need volunteers to talk and encourage them to grow and will need to be watered in summer. Thirty six lavender plants and 60 tulip bulbs were also planted. In Spring we plan to finish the border by sowing grass seed and planting some easy care, compact perennials.
26th November 2011 - Church Bazaar 2011
Dinton Christmas Bazaar Thankyou! In the festive glow of a brightly decorated Dinton Village Hall parishioners enjoyed lunch and Christmas shopping - entertained by seasonal music performed by Will Farmer on his keyboard. This long established event –well, it was well before my time and I've been here over 40 years - yet again proved successful raising £1120 for the running costs of our churches. The Luxury Hamper, containing amongst other local goodies, a Starveall Turkey and Quinta dela Rosa Vintage Port, was won by Chloe Lambert and the runner up basket was won by Mrs Jill Gasking. A big Thankyou to all of you who have helped make this possible by donating, cooking, selling, decorating and coming along to buy so generously. What a team!! Valma
16th November 2011 - The Seven Stars under new management
The keys to the Seven Stars pub were handed over to Stephanie Guiraute at 9.00pm on the 16th November 2011 by Terry Heath a director of the Joint Venture Company that was formed to buy the pub for the community. The pub was put up for sale in April 2011 by Punch Taverns who since 2001 had leased it to many tenants who had failed due to the high rents and tied brewery supplies that Punch had insisted upon. Seven Stars Dinton Ltd. was formed in May 2011 as a Joint Venture company with the sole objective of the purchase of the pub and its subsequent successful operation. 66 interested investors became shareholders and the pub was bought. Stephanie Guiraute and David Berry were granted a lease to manage the pub and restaurant and have now returned the Stars to its former importance as a centre of the community. If you have not been to the Stars for a time a warm welcome awaits you.
Hand Over of Seven Stars Pub to Stephanie Guiraute
10th September 2011 - Dinton Scarecrow Festival
Dinton Scarecrow Festival There were 20 scarecrows, some in gardens, some at the Church, and visitors appeared to find the variety of styles good fun. The winners of the Haddenham Garden Centre voucher were Mr and Mrs Hopwood with their cigar smoking Mexican. The Epcott family's straw horse carried off the prize for children's work donated by the Co-operative Stores in Stone, but the judge said it was a very difficult choice. Many thanks to all who participated and to the makers of teas and cakes. How about a repeat Festival in 2012?
29th August 2011 - Parish Fete 2011
DINTON PARISH FETE Another successful fete this year - and without the threatening rain!! As usual everyone worked hard but well together and the result is that we should be able to pay out approximately £7,500. This is wonderful news for those in the Parish who will benefit. We were privileged to have the fly past of a Spitfire. It was a wonderful sight the pilot dipped his wings in salute. Hope he saw us waving? On behalf of the Committee may I say a HUGE THANK YOU to all the wonderful "volunteers" who collected equipment; assembled it on the field; manned stalls; sorted the money and finally cleared the field and returned equipment for another year. We invite everyone to join us for a drink in the Dinton Village Hall on Tuesday 18th October at 7.30 when we will distribute cheques to those organisations who requested a share of the profits. We look forward to seeing you there. Sylvia Eaton - Chairman Dinton Fete Committee
25th June 2011 - Midsummer Ball
At last, on Saturday June 25, the sun shone and Dinton had a Midsummer Ball. It was a great evening, good food and music – and a marquee beautifully decorated by Caroline King and friends. Prizes for the Raffle and Balloon flight were sponsored, amongst others, by Blaise Brogan, The Dinton Hermit, The Bottle and Glass, Andy Napier and Brothers of Thame. The Champagne Balloon Flight for two was won by Mary Hobden. Big thankyous to Caroline and John King for hosting the event, Chris Robinson who led the Dinton Marquee Team and Giles Kidner who organised the band, and we mustn't forget a great bunch of enthusiastic young people who did an excellent job of serving food and drink throughout the evening. As a result of the generosity of so many people, £2200 was raised for the Flush Fund. Valma Thompson
12th June 2011 - Glimpse of Dinton
As may have been said before, the 'Glimpse' of Dinton on June 12 was through a curtain of almost continual rain but were we dejected, dispirited!? Well actually …. . but no, a Dunkirk spirit rallied the local troops and a valiant £865 was raised for the project. Medals must go to all those who braved adversity to enjoy some really beautiful gardens, delicious teas and buy plants. Thankyou to Marie Helene Usherwood and to those who opened their gardens, made cakes and served teas, offered plants and bought and sold plants. Well done!
- Christmas 2021
Christmas Lights